Many Doctors Not Trained in Post-Cancer Sex Health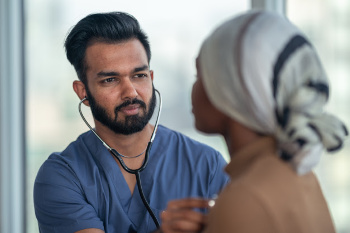 Cancer treatment can have many sexual side effects, including erectile dysfunction, low testosterone, and poor vaginal lubrication. But research suggests that healthcare providers often don't discuss sex health after treatment with their patients.
Lack of time and lack of training are likely barriers to such discussions, researchers reported. Their findings were presented at the October 2019 meeting of the Sexual Medicine Society of North America (SMSNA). (Note: The SMSNA publishes the SexHealthMatters website.)
The research team sent a Sexual Health Attitudes Questionnaire to 88 oncologists and advance practice providers (APPs) to learn more about sex health conversations with patients. Thirteen healthcare providers responded.
Among this group, 31% said they "often" or "always" talked about sexual health with their patients, and just under a quarter reported "often" or "always" discussing sexual side effects of chemotherapy.
Almost half said they "rarely" or "never" referred their patients to a sex health professional if needed.
Many respondents noted that they had not been professionally trained in male sexual health issues. Over half of the participants said they lacked training in men's erectile, ejaculatory, or orgasmic disorders. About 46% said they had not been trained in low testosterone and libido disorders in men.
Training was not common in women's sexual health either. Forty-six percent of the respondents had not been educated on vaginal lubrication or female sexual pain. Over half were not trained in orgasm difficulties or libido.
"In this small series of local oncologists and their APPs, the majority are: not discussing sexuality with their patients, not discussing the potential adverse impact of cancer and its treatment on sexuality, not referring their patients to another professional to discuss sexuality," the researchers concluded in their study abstract.
They acknowledged that their findings needed validation in a larger survey of healthcare providers. They also called for improved sexual health education for clinicians who work with cancer patients.
See more recent news and information about cancer and sexuality:
Low Testosterone Common in Germ Cell Tumor Survivors
Hormone Therapy Linked to Poor Sexual Outcomes in Women with Breast Cancer
Statins Before Prostatectomy Don't Improve Erectile Function, Study Finds
Ovarian Cancer Survivors Report Lower Quality of Life
Take Advantage of Cancer Rehabilitation Options
Dating After Cancer – Taking the Next Steps
Resources
MedPage Today
Boyles, Salynn
"Do Cancer Care Providers Skip the 'Sex Talk' With Patients?"
(October 27, 2019)
https://www.medpagetoday.com/meetingcoverage/smsna/82969
Sexual Medicine Society of North America (SMSNA)
Dubin, J, et al.
"Attitudes, Practices, and Barriers to Sexual Health Assessments of Patients Amongst Practicing Oncologists: Survey Data from a Group of Local Oncology Healthcare Providers"
(Abstract 166 presented at SMSNA's 20th Annual Fall Scientific Meeting, Saturday, October 26, 2019. Nashville, Tennessee.)
https://www.smsna.org/V1/meetings/past-sms-meeting/20th-annual-fall-scientific-meeting-of-smsna/program?where_person=188