Peyronie's Surgery Safe and Effective for Older Men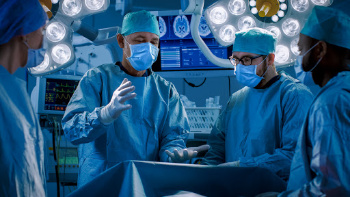 Surgical treatment of Peyronie's disease is generally safe and effective for men age 65 and over, reports a recent study in the Journal of Sexual Medicine.
Eighty-five percent of the men in the study were satisfied with their results.
Men with Peyronie's disease have a deformity in their penis caused by areas of hardened scar tissue called plaques that form on the tunica albuginea (the tissue that surrounds the spongy chambers that fill with blood when a man has an erection).
Usually, the result is a distinct curve, but some men develop deformities that resemble an hourglass or a hinge. Sometimes, the situation is so severe that men cannot have intercourse. Peyronie's disease can be painful, and erection difficulties are possible. It also becomes more common as men get older.
While there are several non-surgical approaches to treating Peyronie's disease, surgery is considered the gold standard. However, scientists weren't sure whether surgery was a good option for older men. With the world's population aging (and many men staying sexually active in their older years), they decided to investigate the subject further.
They analyzed the medical records of 86 men over age 65 (average age 68) who had surgery for Peyronie's disease between 2010 and 2017.
The men underwent one of three procedures:
Penile prosthesis implantation with straightening maneuvers (PP+SM).The 39 men in this group had severe erectile dysfunction (ED) that didn't get better with oral medication. They received a penile implant, a device that allows men to create an erection on demand.
Tunica albuginea plication (TAP).The 25 men in this group had a less severe curve with no hinge or hourglass effects. The surgeon straightened the penis by suturing the area without plaques.
Penile partial incision with grafting (PEG). The 22 men in this group had a more severe curve of over 60 to 70 degrees. Some had the hinge effect. Their surgery involved cutting into the plaque to straighten the penis. The cut area was then filled with a graft material.
The men had follow-up visits for at least nine months after surgery.
For 95% of the men, "functional straightness" was achieved. Their curve had been reduced to under 20 degrees and they were able to have penetrative intercourse. Most said they were able to have penetrative sex regularly. Each group had a satisfaction rate of about 85%.
Three complications were reported. One man had urinary retention, another had a nerve injury that affected his elbow, and a third developed swelling from clotted blood. All were treated accordingly.
The authors noted that all of the surgeries were performed by the same "highly-experienced" surgeon at one location. Men undergoing treatment at other medical centers or with less experienced surgeons might not see the same results.
They also recommended that men with Peyronie's disease receive counseling before treatment so that they know what to expect.
Resources
The Journal of Sexual Medicine
Abdelsayed, George A., MD, et al.
"The Surgical Treatment of Peyronie's Disease in the Older Man: Patient Characteristics and Surgical Outcomes in Men 65 and Older"
(Full-text. Published online: September 6, 2019)
https://www.jsm.jsexmed.org/article/S1743-6095(19)31368-2/fulltext
Mayo Clinic
"Peyronie's disease – Diagnosis & treatment"
(August 7, 2017)
https://www.mayoclinic.org/diseases-conditions/peyronies-disease/diagnosis-treatment/drc-20353473