Prostate Cancer Survivors and Partners Want Information on Sexual Recovery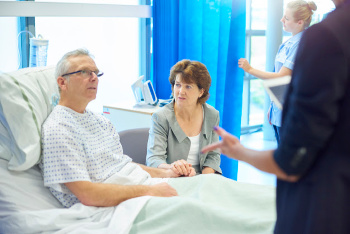 After prostate cancer treatment, men and their partners often need guidance on the sexual aspects of recovery. What do they look for? A recent study investigated this question.
Erectile dysfunction (ED) is one of the most common sexual problems faced by prostate cancer survivors, but it is not the only one. Low sex drive and arousal difficulties are possible. Some men find that their orgasms aren't as intense as they were before cancer. Many struggle with anxiety and depression.
Partners feel the effects, too. Changes in intimacy, along with adjustments in relationship roles, can be a challenge.
Unfortunately, a man's cancer care team might not address the sexual effects of treatment. In the study, researchers wanted to learn more about patients' and partners' experiences. They also wondered if patients and partners would be open to using online support for sexual problems.
They conducted a series of interviews and focus groups with 14 prostate cancer patients and 10 partners (8 women and 2 men). (Note: The partners were not necessarily in relationships with the patients.)
The patients' average age was 62 years, with 6 to 36 months passing between their cancer treatment and the study. The partners' average age was 63 years. Most of the participants had been in committed relationships for a long time – an average of 19 years for the patients and 39.5 years for the partners.
All of the participants filled out validated questionnaires about their sexual function.
After listening to the participants, the researchers identified several themes:
Knowing about sexual side effects before treatment. Many participants said they hadn't been counseled about the sexual impact of treatment.
"My doctor was great about a lot of information, but that particular piece [around sexual side effects] was not really addressed," said one patient in a focus group.
Communication between partners. The need for better communication within a couple was a common concern, with partner involvement encouraged.
"My doctors were very good about looking at my wife and saying, you know "What are your questions, what are your concerns," and so that was really helpful to us," a patient remarked.
Acknowledging partners' needs. Some female partners said they were as interested in sex, but reluctant to say so "for fear of being negatively judged."
Need for support and counseling. Most couples felt that support groups and counseling could be beneficial.
"You feel comfortable when you know that there is somebody else going through the same thing that you are going through. I think that helps," said one partner in a couples' focus group.
Need to tailor support for same-sex couples. Gay participants stressed the importance of addressing their needs, which might be different from those of heterosexual men and couples. For example, couples who engage in anal sex may need to adjust their roles as the insertive or penetrated partner.
Most participants felt that web-based support would be a good idea for couples coping with sexual changes after prostate cancer treatment, although some said they would prefer separate content for patient and partners. The researchers are currently testing a web-based tool for this purpose.
The study was published online in March as an article in press in Sexual Medicine.
Resources
Sexual Medicine
Mehta, Akanksha, MD, MS, et al.
"What Patients and Partners Want in Interventions That Support Sexual Recovery After Prostate Cancer Treatment: An Exploratory Convergent Mixed Methods Study"
(Full-text. Published online: March 1, 2019)
https://www.smoa.jsexmed.org/article/S2050-1161(19)30008-X/fulltext