PTSD Linked to Sexual Problems in Midlife Women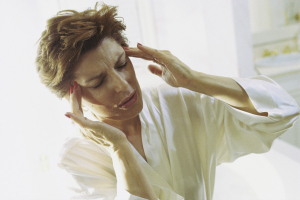 Posttraumatic stress disorder (PTSD) and a history of personal violence is linked to menopause-related sexual dysfunction in midlife women, according to recent research.
While these factors do affect younger women, less was known about the effects on middle-aged and older women, the authors explained.
They examined data from 2,016 women between the ages of 40 and 80 (average age 61 years) from a variety of ethnic groups who were participants in the Kaiser Permanente Northern California healthcare system. The women filled out questionnaires related to PTSD, interpersonal violence, menopause symptoms, and sexual dysfunction.
Twenty-two percent of the women had "clinically significant" symptoms of PTSD. Sixteen percent and 21% had been victims of physical and emotional intimate partner violence, respectively. Nineteen percent had been sexually assaulted.
Three types of sexual problems were investigated: vaginal pain with intercourse (which affected 13% of the women), vaginal irritation (32%), and vaginal soreness (7%).
All three problems were more common in women with PTSD.
The scientists also found an association between emotional intimate partner violence and painful intercourse. Sexual assault, vaginal pain, and vaginal irritation were linked as well.
"Over 20% of midlife and older women in this ethnically-diverse community-based cohort reported clinically significant PTSD symptoms and exposure to interpersonal violence, which contributed to their risk of menopause-related sexual dysfunction," the authors wrote.
They stressed the importance of screening for PTSD and interpersonal violence in women who are middle-aged and older and the need for "trauma-informed care of genital and sexual health" for women in this age group.
The findings were presented at the annual meeting of the North American Menopause Society in Philadelphia last October.
Resources
MedPage Today
Monaco, Kristen
"PTSD Predictor of Midlife Sexual Dysfunction"
(October 17, 2017)
https://www.medpagetoday.com/meetingcoverage/nams/68591
North American Menopause Society
Gibson, Carolyn, PhD, MPH, et al.
"Interpersonal Violence, Posttraumatic Stress Disorder, and Menopause-Related Sexual Dysfunction in an Ethnically-Diverse, Community-Based Sample of Women"
(Abstract S-21. Presented at annual meeting of the North American Menopause Society, October 17, 2017, Philadelphia, Pennsylvania, USA)
http://www.menopause.org/docs/default-source/2017/2017-nams-scientific-and-poster-abstracts.pdf