Special Therapy Addresses Body Image in Breast Cancer Survivors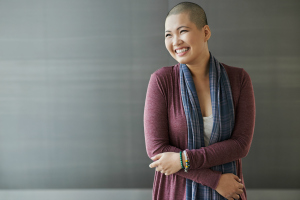 Researchers in Canada have developed a promising program that aims to help breast cancer survivors with body image.
Restoring Body Image After Cancer (ReBIC) is a group therapy approach that combines guided imagery with talk therapy in a supportive environment.
Body image concerns are common in breast cancer survivors, who are adjusting to a body that isn't quite the same as it was before cancer. Women may have lost one or both breasts to surgery or their hair to chemotherapy. Removal of lymph nodes can lead to lymphedema – a swelling of the arms or legs. Treatment can trigger early menopause as well.
The research team tested their program with 194 women and published their findings in January in the Journal of Clinical Oncology.
The women's ages ranged from 18 to 65. They had all been diagnosed with invasive breast cancer, but the disease had not spread to other parts of the body. All their treatments – surgery followed by chemotherapy and radiation – and had been cancer-free for two years.
The women were randomly assigned to one of two groups.
One hundred thirty-one women attended ReBIC sessions once a week for eight weeks. The therapy included guided imagery, a type of visualization process, during which women used their imagination to process their situation with their senses. The women also shared their feelings and experiences and received information and reading materials related to body image and breast cancer.
The remaining 63 women were given reading materials but did not participate in the group therapy.
All the women were followed for one year, periodically completing questionnaires about body image, sexuality, and quality of life.
Over time, the women in the therapy group tended to feel more comfortable with their bodies and felt less body stigma than the women who received no therapy. After one year, the ReBIC group reported a better cancer-related quality of life, too.
The groups had similar results for sexual function assessments.
Right now, the ReBIC is located mainly in the Toronto area, but the researchers hope to offer it in other areas eventually. They say it can be adapted easily in both cancer centers and primary care settings.
In the meantime, cancer survivors who are troubled by any unease with their bodies should talk to their care team. A doctor can usually make a referral to a counselor who specializes in post-cancer body image concerns.
Resources
BreastCancer.org
"Program Can Help Ease Body Image Concerns and Improve Quality of Life"
(February 1, 2018)
http://www.breastcancer.org/research-news/easing-body-image-concerns-and-improving-qol
Journal of Clinical Oncology
Esplen, Mary Jane
"Restoring Body Image After Cancer (ReBIC): Results of a Randomized Controlled Trial"
(Abstract. Published online before print: January 22, 2018)
http://ascopubs.org/doi/full/10.1200/JCO.2017.74.8244
MedwireNews.com
"Psychosocial intervention helps improve post-cancer body image"
(January 30, 2018)
https://www.medwirenews.com/breast-cancer/oncology/psychosocial-intervention-helps-improve-post-cancer-body-image/15422946