Testosterone Therapy Impedes Diabetes Progress, Study Finds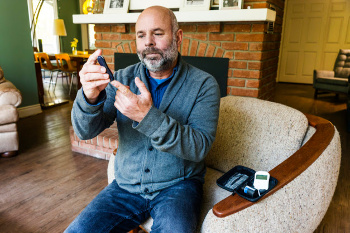 Testosterone therapy might slow down the path to type 2 diabetes in some men, experts report in Diabetes Care.
The finding applies to men who have both prediabetes and low testosterone.
People with prediabetes have higher-than-normal blood sugar levels, but these levels are not high enough for an official diabetes diagnosis. However, prediabetes increases a person's risk for type 2 diabetes as well as heart disease and stroke.
Prediabetes can be a wake-up call. People with prediabetes may be able to lower their risk for more serious health conditions by making healthier lifestyle choices.
Men with testosterone deficiency (hypogonadism) are also at higher risk for type 2 diabetes.
The study involved 316 men with prediabetes, low testosterone levels (less than or equal to 12.1 nmol/L), and symptoms of hypogonadism, which may include low sex drive, fatigue, moodiness, and decreased muscle mass.
Two hundred twenty-nine men received testosterone therapy; the remaining 87 men received no treatment. For eight years, the researchers assessed the men's health twice annually.
At the eight-year point, glucose regulation had returned to normal for 90% of the treatment group. In contrast, 40% of the untreated group had developed type 2 diabetes.
The men who received testosterone saw improvements with their fasting glucose, cholesterol, and triglyceride levels, but levels worsened for the men in the untreated group.
The men in the testosterone group also had improved scores on the Aging Males' Symptoms (AMS) scale (an assessment tool used to measure health-related quality of life in aging men) compared to the men who did not undergo testosterone therapy.
Mortality rates and incidence of nonfatal heart attacks were higher for the men in the untreated group.
"Long-term [testosterone therapy] completely prevents prediabetes progression to [type 2 diabetes] in men with hypogonadism and improves glycemia, lipids, and AMS score," the study authors concluded.
They added, "[Testosterone therapy] holds tremendous potential for the large and growing population of men with prediabetes and hypogonadism."
Resources
Centers for Disease Control and Prevention
"Prediabetes: Your Chance to Prevent Type 2 Diabetes"
(Page last reviewed: June 21, 2018)
https://www.cdc.gov/diabetes/basics/prediabetes.html
Diabetes Care
Yassin, Aksam, et al.
"Testosterone Therapy in Men With Hypogonadism Prevents Progression From Prediabetes to Type 2 Diabetes: Eight-Year Data From a Registry Study"
(Abstract. March 2019)
http://care.diabetesjournals.org/content/early/2019/03/04/dc18-2388
HealthDay News via DoctorsLounge.com
"Testosterone Therapy in Hypogonadism Can Prevent Progression to T2DM"
(March 15, 2019)
https://www.doctorslounge.com/index.php/news/pb/87280
Univadis
Tucker, Miriam (Curator)
"Testosterone therapy halts progression to T2D in men with hypogonadism"
(March 13, 2019)
http://univadis.com/player/ymqqvugnw?m=unv_eml_essentials_enl_v4-q42018_20190314&partner=unl&rgid=5pbcznujyqbqzkfhvyprpp&ts=2019031400&o=tile_3_id&utm_source=Retention&utm_medium=newsletter&utm_campaign=unv_eml_essentials_enl_v4-q42018_20190314_03