Yoga May Help Prostate Cancer Patients Cope with Radiation Side Effects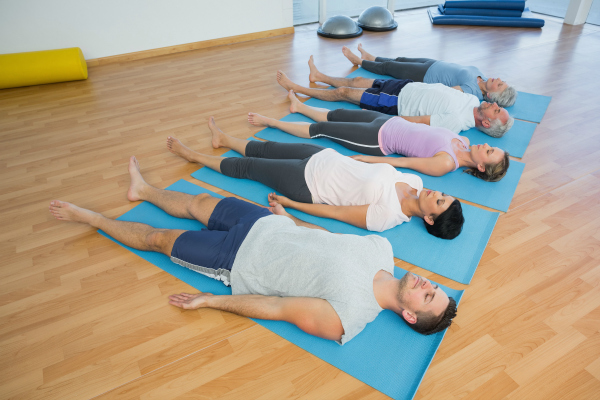 Men coping with side effects from prostate cancer treatment might want to consider taking a yoga class.
In a recent study, men who practiced yoga while receiving external beam radiation therapy became less fatigued than men who didn't. Their sexual and urinary function remained stable, too.
External beam radiation therapy uses high-energy beams to weaken cancer cells' ability to divide and grow. While the therapy is effective, many men experience side effects, including fatigue, sexual problems (such as erectile dysfunction), and trouble with urination.
Fifty men with localized prostate cancer participated in the study. (Their cancer had not spread to other parts of the body.) All of them underwent external beam radiation therapy for six to nine weeks. During this time, twenty-two men attended yoga classes twice a week. Twenty-eight did not.
The men in the yoga group practiced the Eischens type of yoga, which focuses more on energy than other types. Each 75-minute session included a variety of poses in sitting, standing, and reclining positions. The men used props, and poses were modified as needed.
Shortly before the study began and throughout the study period, all the men completed questionnaires designed to assess their levels of fatigue, sexual function, urinary function, and quality of life.
The men had similar levels of fatigue at the start of the study. Over time, however, the men in the yoga group had less fatigue while the men who did not practice yoga became more fatigued.
"Levels of patient-reported fatigue are expected to increase by around the fourth or fifth week of a typical treatment course, but that did not happen in the yoga group," lead researcher Neha Vapiwala, MD, an associate professor of radiation oncology at the Perelman School of Medicine at the University of Pennsylvania said in a news release.
"Both the severity of the fatigue as well as the patients' ability to go about their normal lives appeared to be positively impacted in the yoga group," Dr. Vapiwala added.
Erectile function appeared to be somewhat better for the yoga group, too. The research team used the International Index of Erectile Function (IIEF) questionnaire to assess this aspect of the men's sexual health. The IIEF is scored on a 1 – 25 point scale. Men with scores under 12 points are usually diagnosed with moderate to severe ED. In this study, scores for men in both groups were around 11 points starting out. Over time, scores for the men in the yoga group stayed roughly the same, but men in the non-yoga group saw their scores decrease.
Urinary function seemed to be better for men in the yoga group, too. It's possible that strengthening pelvic floor muscles through yoga could help both sexual and urinary function, Dr. Vapiwala suggested.
As treatment continued, both groups of men improved in their emotional well-being, although this result happened more quickly for the yoga group.
The study was published online by the International Journal of Radiation Oncology, Biology, and Physics in March as an article in press.
Resources
HealthDay
Preidt, Robert
"It's Yoga to the Rescue for Prostate Cancer Patients"
(April 13, 2017)
https://consumer.healthday.com/fitness-information-14/yoga-health-news-294/it-s-yoga-to-the-rescue-for-prostate-cancer-patients-721441.html
International Journal of Radiation Oncology, Biolog7, and Physics
Ben-Josef, Avital Mazar, DMD, E- RYT, et al.
"Impact of Eischens Yoga During Radiation Therapy on Prostate Cancer Patient Symptoms and Quality of Life: A Randomized Phase II Trial"
(Article in press. Abstract. Published online: March 30, 2017)
http://www.redjournal.org/article/S0360-3016(17)30744-7/abstract
Mayo Clinic
"External beam radiation for prostate cancer"
(May 18, 2016)
http://www.mayoclinic.org/tests-procedures/external-beam-radiation-for-prostate-cancer/home/ovc-20204694
Medscape
Mulcahy, Nick
"Really, Men With Prostate Cancer Do Yoga"
(April 18, 2017)
http://www.medscape.com/viewarticle/878696
Penn Medicine News
"Clinical Trial Shows Benefit of Yoga for Side Effects of Prostate Cancer Treatment"
(News release. April 6, 2017)
https://www.pennmedicine.org/news/news-releases/2017/april/clinical-trial-shows-benefit-of-yoga-for-side-effects-of-prostate-cancer-treatment
Time.com
MacMillan, Amanda
"Yoga May Help the Side Effects of Cancer Treatment"
(April 10, 2017)