FDA Approves Testosterone in Pill Form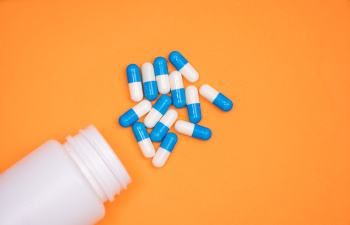 The U.S. Food and Drug Administration (FDA) has approved an oral form of testosterone therapy for some men with hypogonadism (low testosterone).
Jatenzo is a capsule, offering men an alternative to testosterone preparations that are injected or applied directly to the skin.
The drug is approved only for men whose ability to produce testosterone is caused by medical conditions like Klinefelter syndrome and pituitary gland tumors. It is not approved for men who experience natural declines in testosterone as they age.
"It's important to emphasize that this drug should not, like other testosterone treatments, be used to treat older men with 'age-related hypogonadism,'" said Dr. Hylton V. Joffe of the FDA's Center for Drug Evaluation and Research in a press release.
He added, "The benefits of testosterone therapy, including Jatenzo, have not been established for this use, and Jatenzo's effects on raising blood pressure can increase the risks of heart attack, stroke, and cardiovascular death in this population."
In a four-month clinical trial of 166 men, 87% of the men taking Jatenzo saw their testosterone levels reach a normal range, the FDA reported.
The most commonly reported side effects were headache, increased red blood cell count, higher prostate-specific antigen levels, decreased HDL ("good") cholesterol, high blood pressure, and nausea.
In accordance with FDA rules, Jatenzo comes with a boxed warning on its label. Boxed warnings let consumers know about potentially life-threatening risks associated with a certain drug.
There are concerns that Jatenzo could cause dangerous spikes in blood pressure, increasing the risk for heart attack, stroke, and deaths related to heart disease. Before prescribing Jatenzo, doctors should make sure a patient's blood pressure is under control, the FDA said. Blood pressure should also be checked regularly.
Please see these links to learn more about hypogonadism and testosterone replacement therapy:
What Should Men Know About Topical Testosterone?
Self-Injectable Testosterone Now Available
Testosterone Therapy Impedes Diabetes Progress, Study Finds
Resources
FDA.gov
"FDA approves new oral testosterone capsule for treatment of men with certain forms of hypogonadism"
(New release. March 27, 2019)
https://www.fda.gov/NewsEvents/Newsroom/PressAnnouncements/ucm634585.htm
"A Guide to Drug Safety Terms at FDA"
(November 2012)
https://www.fda.gov/downloads/forconsumers/consumerupdates/ucm107976.pdf
Medscape Medical News
Brooks, Megan
"FDA OKs Jatenzo Oral Testosterone Replacement for Certain Forms of Hypogonadism"
(March 27, 2019)