Survey Reveals the Emotional Impact of Prostate Cancer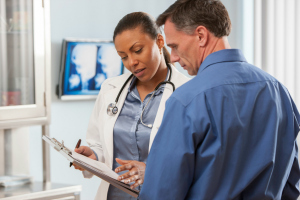 Prostate cancer packs an emotional punch as well as a physical one, a new survey reveals.
Life-changing, frightening, and sad were just some of the answers survey respondents gave when asked to sum up prostate cancer in one word.
The "Prostate Cancer in America 2018" survey included 953 people: 928 men who had been diagnosed with prostate cancer and 25 prostate cancer caregivers.
Sixty-one percent of the men did not have prostate cancer symptoms when their diagnosis was made. Instead, they were visiting their doctor for another medical concern.
Over a third of the men (38%) were in remission at the time of the survey, but for 14%, the cancer had come back at least once.
Follow-up is important for prostate cancer patients, and most the men underwent scans and follow-up tests at least twice a year. The anxiety associated with such testing – wondering whether the cancer would return – can further the emotional impact of the disease.
So can the changes in quality of life. Just over half the men said they had less energy, and 39% were bothered by treatment side effects. Men also expressed concerns that their condition would worsen (38%), that pain prevented them from doing things they enjoyed (34%), and feelings of sadness (33%).
When asked about daily experiences, almost a quarter of the men coped with erectile dysfunction (ED). Back and hip pain, fatigue, and urinary problems were other common effects.
The men were most frustrated by sexual problems, bladder and bowel issues, their unknown future, and "not feeling like a man." Almost two-thirds said they were not satisfied with their sex lives. Some worried that their partner would leave them.
Nine percent had been diagnosed with anxiety or panic disorders; eight percent had a mood disorder, like depression.
While most were satisfied with their treatment, many pointed out the need for mental health support and resources, especially for depression and anxiety.
"'Not feeling like a man' is a big part of men having to grapple with a 'different self' post–diagnosis. Questioning one's identity and how one feels may be a new experience for many men. Most men will need time to resolve the emotional aspects with how they are they are feeling physically, and how they relate to others like a spouse or family members," the Health Union editorial team wrote.
The survey was conducted online between October 19, 2017 and January 31, 2018.
Resources
Health Union
"Prostate Cancer Survey Highlights Impact on Social, Emotional Well-Being"
(Press release. April 12, 2018)
https://health-union.com/news/prostate-cancer-survey-emotional-impact/
ProstateCancer.net
"Prostate Cancer – Turning Life Inside Out"
(April 11, 2018)