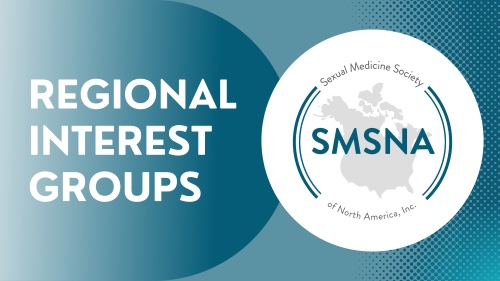 Under the leadership of Dr. Mohit Khera, SMSNA President, and Dr. Peter Tsambarlis, Chair of the Medical Student and Resident Committee, SMSNA has started a new initiative called Regional Interest Groups (RIGs). This initiative started with establishment of RIGs under committee members of the Medical Student and Resident Committee, and is now being expanded to the larger membership. RIGs have been established to make connections between individuals with a similar interest in a designated geographical area. RIGs also allow the ability to introduce Medical Students to the subspecialized field of sexual medicine, so they can explore their interests and learn about potential careers. All Medical Students and Residents are encouraged to join the organization by applying for free membership in SMSNA, which includes membership in ISSM. By becoming a member, they will have access to many membership benefits offered by both organizations such as educational resources, discounted fees to meetings, and discussion forums.
To establish a RIG:
You must be a member of SMSNA

Students and residents have access to FREE membership (dues are waived) - details here
Membership with SMSNA will be coupled with ISSM membership

A member must submit a RIG Application Form. You will be asked to:

Identify a Resident Champion, a Medical Student Champion, and a Faculty Anchor
Submit their attainable goal and focus related to sexual medicine (i.e. Education, Research, Community Outreach)
Provide 3 possible dates/times for an initial meeting
Each RIG application will be reviewed by the Medical Students and Residents Committee. Once it has been determined that there is a need for a RIG with the requested focus area in your geographical area, the committee will approve the RIG application. If the committee determines there is overlap with an existing RIG (listed below), they will be connected to each other. Upon approval, the RIG's initial meeting will be scheduled. You can expect to receive a calendar invitation, with a Zoom meeting link included, from the SMSNA Executive Office. During this meeting the RIG will assemble their preliminary roster, provide an introduction to SMSNA, and discuss/decide on the acivity and/or event for a RIG. Consider moving forward with what your RIG is passionate about as this will increase engagement within your group. Below are some examples of activities and/or events that should be considered:
Organizing a Journal Club
Local expert talk
Collaboration to improve research studies
Community seminars
Education or volunteering
SMSNA will financially support RIG activities and events, up to a certain amount per RIG per year. Prior approval of the activity/event with expenses overview is required to receive reimbursement of expenses. Eligible expenses are Audio Visual equipment/support, Food & Beverages and/or Room Rental. Receipts are required for reimbursement.
After each meeting/activity/event, the RIG will report back to the Medical Students and Residents Committee. They do this by having the Medical Student and/or Resident Champion write up a short synopsis of the gathering and submit that with the roster and an image/screenshot of the participants.
SMSNA will provide RIGs with some informational slides on SMSNA, and a link to an evaluation to be completed after the activity and/or event by participants.
Existing RIGs (as of 9/8/2023)
Chicago, IL

Medical Student champion: Basil Zakkar
Resident Champion: Joshua Cabral, MD
Faculty Anchor: Omer Raheem, MD, MSc, MCh

Detroit, MI (must be a resident of or a student in Michigan)

Medical Student champion: Sarah Armitage
Resident Champion: Michael Sessine, MD
Faculty Anchor: Aron Liaw, MD

Houston, TX

Medical Student champion: Jeffrey Song
Resident Champion: Amit Reddy, MD
Faculty Anchor: Mohit Khera, MD, MBA, MPH

Irvine, CA

(must be a resident of or a student in Irvine)

Medical Student Champion: Muhammed Hammad, MBBCh
Resident Champion: Jake Miller, MD
Faculty Anchor: Faysal Yafi, MD FRCSC

Miami, FL

Medical Student champions: Vishal Ila and Greeshma Venigalla
Resident Champion: Jordan Best, MD
Faculty Anchor: Nicholas Hauser, MD

New York, NY (must be affiliated with NYU)

Medical Student champion: Hunter Hernandez, BS
Resident Champion: Ari Bernstein, MD
Faculty Anchor: Hossein Sadeghi-Nejad, MD, FACS

Phoenix, AZ

(must be a resident of or a student in the SW region)

Medical Student champion: Sandeep Voleti, MS
Resident Champion: Christopher Warren, MD
Faculty Anchor: Nahid Punjani, MD, MPH

Winnipeg, MB (

must be a resident of or a student in Manitoba

)

Medical Student champion: Dhiraj Bal, BSc
Resident Champion: David Chung, MD
Faculty Anchor: Premal Patel, MD
If you are interested in joining any of the existing RIGs listed above, please fill out the Existing RIG Application Form.
Any questions related to this initiative can be directed to the SMSNA Executive Office at This email address is being protected from spambots. You need JavaScript enabled to view it..